Gorolive.com – Watch Free Movies Online Without Registration
Many biopics and documentaries have been released over the years, but few have been quite as enthralling as "Moonage Daydream," Brett Morgen's ode to the musical legend, David Bowie. Bowie was a genuine talent and artist with accomplishments such as singing, songwriting, and acting but it is hard to really capture his essence. However, Morgen with Bowie's estate on board has done the late icon justice.
The documentary features rarely-seen concert and performance footage, as well as dozens of songs from his discography. The extensive production reveals Bowie through his own voice, thanks to Bowie's estate granting him access to rare and never-before-seen drawings, recordings, and journals, and Morgen crafting those materials beautifully to allow the audience to experience who David Bowie was as an artist. 
READ MORE: 'Moonage Daydream' Review: Brett Morgen Beams You To Planet David Bowie In A Musical Space Extravaganza [Cannes]
Now, ahead of the digital and Blu-ray release of the film, Neon and Mondo have teamed up with Shepard Fairey, a contemporary artist and founder of OBEY Clothing, to release a limited edition poster for the film. Mondo, the pop culture brand that works with artists to create merchandise built for collectors, worked with Fairey twice in 2016 but hasn't worked with him since so they are so excited about this collaboration. 
When asked about the poster, Fairey stated, "Moonage Daydream" is powerful, beautiful, hypnotic, hip, and a great indication of Bowie's vision to push boundaries with his art. For this "Moonage Daydream" print image, I was able to reference outtakes from the Ziggy cover shoot, one of which I thought, with a few artistic liberties taken, could become a great portrait illustration. Bowie was incredibly photogenic, which yielded so many glorious images of him, and makes it a challenge to create a new visage that stands with the rest of his most iconic portraits. It is very meaningful for me to have the opportunity to craft my articulation of one of my favorite artists ever, from possibly the era of his peak creative genius. It is an honor to contribute in a small way to David Bowie's visual legacy."
The 18"x24" limited edition screenprint, which you can see below, is only available for 72 hours when it launches. It will be available from 12pm CST on November 15 to 12pm CST on November 18. This work of art costs $60. You can find the poster for purchase here. 
You can own "Moonage Daydream" on digital and Blu-ray on November 15.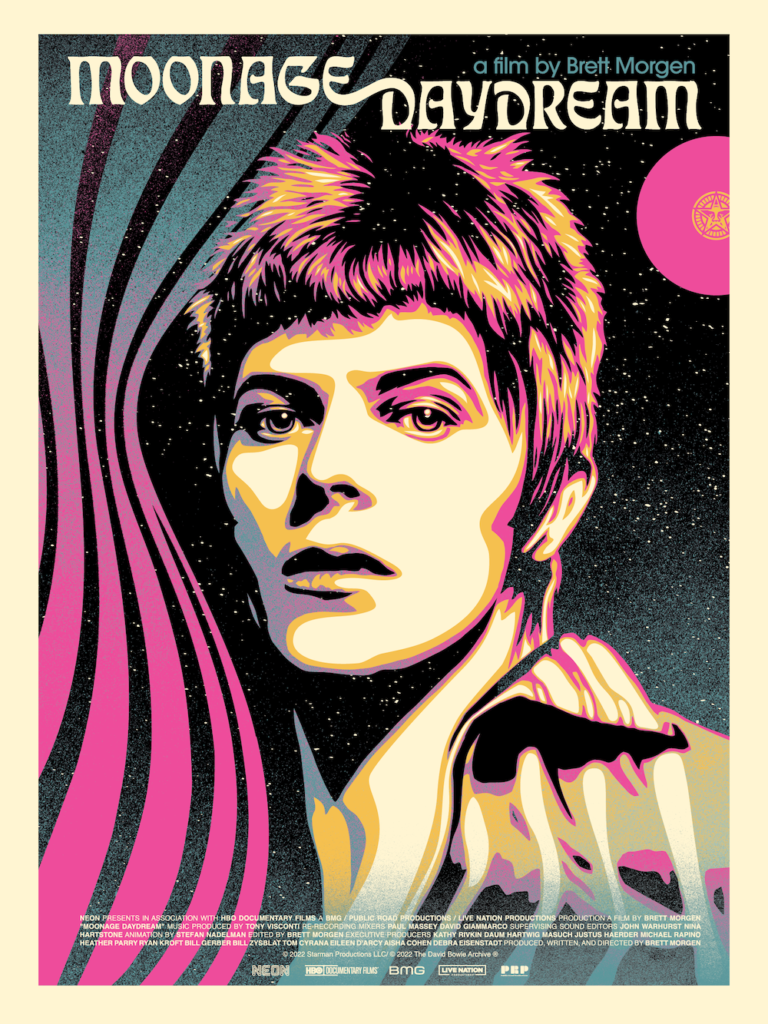 source
[amazon_auto_links id="6857″]