Gorolive.com – Watch Free Movies Online Without Registration
Could anticipation be any higher for Noah Baumbach's "White Noise"? Critics loved his last film, 2019's "Marriage Story," which racked up six nominations at the 92nd Academy Awards, including Best Picture. But is Baumbach over his head adapting Don Delillo's 1985 novel? Critical generally like it, but now audiences get to have their say, as the film hits select theaters before its exclusive Netflix premiere.
Based on Delillo's novel, "White Noise" follows an academic and his family as they grabble with an "Airborne Toxic Event."  
Here's a new logline for the film, courtesy of Netflix:
At once hilarious and horrifying, lyrical and absurd, ordinary and apocalyptic, White Noise dramatizes a contemporary American family's attempts to deal with the mundane conflicts of everyday life while grappling with the universal mysteries of love, death, and the possibility of happiness in an uncertain world.
Adam Driver and Greta Gerwig lead the "White Noise" cast, which includes Don Cheadle, Raffey Cassidy, Sam Nivola, and May Nivola.  Lars Eidinger, Andre Benjamin, and Jodie Turner-Smith round out the main cast.  
Alongside music by Danny Elfman, "White Noise" also boasts the first song in five years by LCD Soundsystem, "new body rhumba." The song features in the latest trailer for the movie, available to watch below. Murphy provided music for two of Baumbach's previous films, 2009's "Greenberg" and 2014's "While We're Young."  
Also below: check out custom artwork for "White Noise' designed by Marija Tiurina. The special art print poster will be exclusively distributed in theaters that screen "White Noise" starting November 25.  
After its limited theatrical run, "White Noise" hits Netflix on December 30. Watch the new trailer for the film below.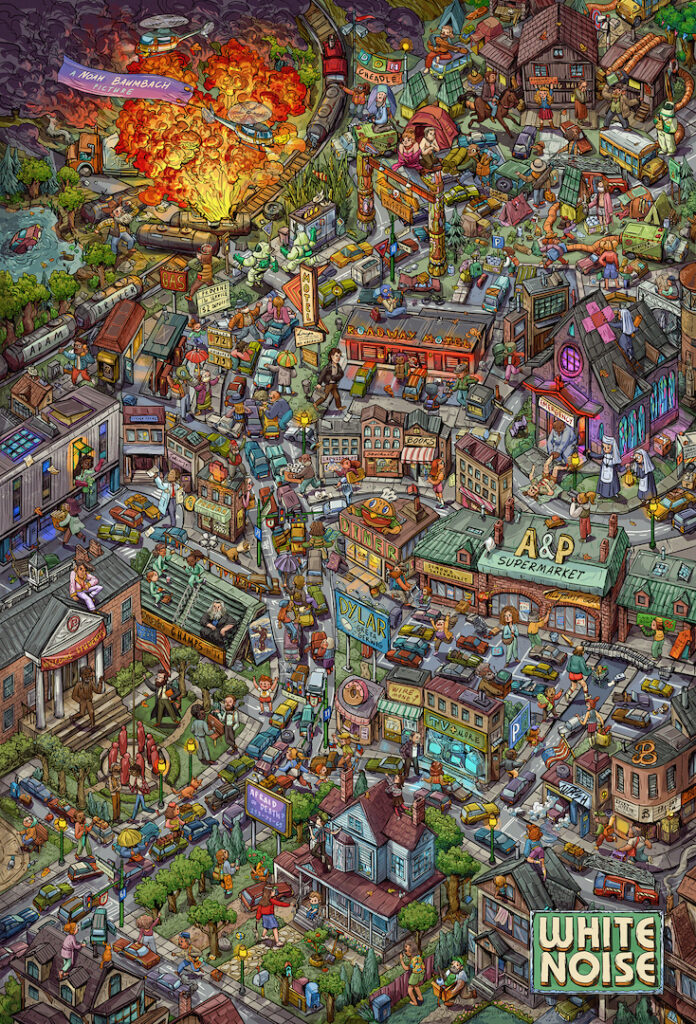 source
[amazon_auto_links id="6857″]